Google's November 2021 Spam Update, which began rolling out on November 3, 2021, has finally completed its rollout, according to a tweet from Google. It took about 8 days to finish, which is significantly longer than the average time for Google Updates. The entire extent of the update's influence has yet to be determined. If your traffic and rankings have dropped in the previous 10 days or so, it's time to rethink your content strategy because Google has suggested, though not officially, that this upgrade was aimed at content spam rather than link spam.
Google has confirmed that it is presently rolling out another Spam Update. While Google did not specify which kind of spam it is targeting this time, others speculate that it is focusing on Cloaked Spam Content with Injected Links. On the other hand, Google's Danny Sullivan noted that the change is focused on content that does not adhere to Google's guidelines. The update began rolling out on November 3, 2021 and is expected to take about a week to complete, however, it might be completed in a day or two. We'll keep you informed as soon as Google confirms its completion.
Including the November 2021 Spam Update, there have now been a total of four Spam Updates this year, with two Core Updates (or one big Core Update split into 2). That's a lot of new information. There's still a month till the year 2022 comes. Is it time for another Core Update? We'll have to wait and see.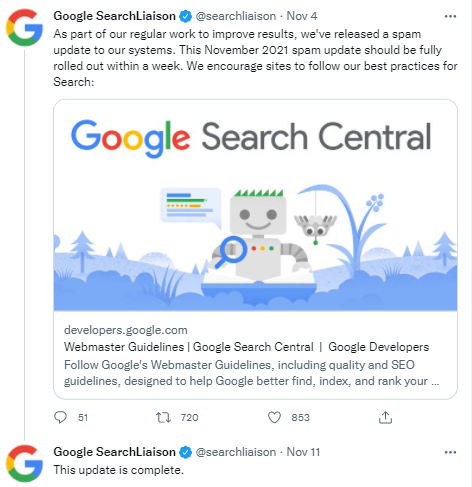 What is the purpose of these Spam Updates?
Google's Spam Updates ensure that search results are spam-free 99 % of the time. Every frickin' day, Google's automatic processes prevented roughly 25 billion spammy pages from being indexed, according to statistics. Websites that adhere to Google's Webmaster Guidelines are unaffected. But that doesn't rule out the possibility of your website being penalized, however remote. If your website is found to be guilty of violating one or more of the standards, you may see a decline in traffic and ranks, as well as be punished. So, for your own protection, keep a careful check on your website's traffic, and if you see significant decreases or changes in your organic search results, it might be due to this Spam Update. Whether it's purposeful misconduct or unintentional errors, it's all the same to Google.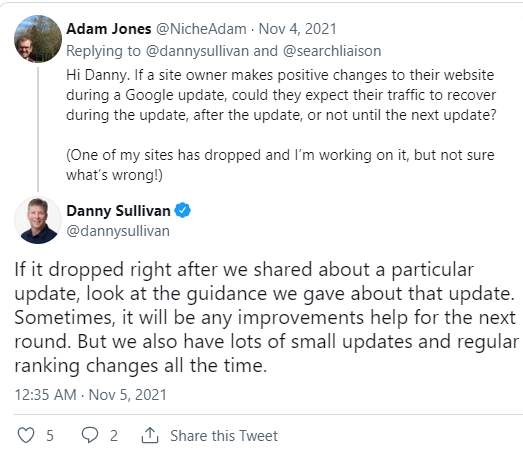 Since the update, I've seen a huge drop in traffic? So, what should I do now?
Wait for it to pass. Wait until Google confirms the completion of the Spam Update Rollout in November 2021. Allow some time for your website to settle in before re-evaluating the results. If you still believe you've been treated unfairly by this update and that your traffic and rankings aren't what they were before the change, it's time to take urgent action and deal with the issues that are both visible and invisible. You may monitor the health of your website on Search Console, and if you find it has been punished for not adhering to the rules, you can contact us at any moment and we'll take care of it.
The standard procedure is to do a thorough website audit, isolate the issues, and fix them one by one.