With over 60 million active business pages and over 2 billion users on Facebook (and as yet climbing), it has become a nonstop challenge to stand out your overall marketing strategy for interacting with existing customers and reaching out to the new audience.
Whether you have a well-established Page or you're simply beginning, follow these steps to streamline your profile to get the best outcomes for your business in 2021.
1. Add a solid call to action button to your Facebook page:
This call to action button can help your customer means of driving some sort of action on your page that is contacting you via Messenger or email or by phone or website, shop, book a service, order food, and more. This appears right below your cover photo.

Today, there are a plethora of options to choose from–so if your company needs several CTAs, you can experiment with the various options to see which one fits best.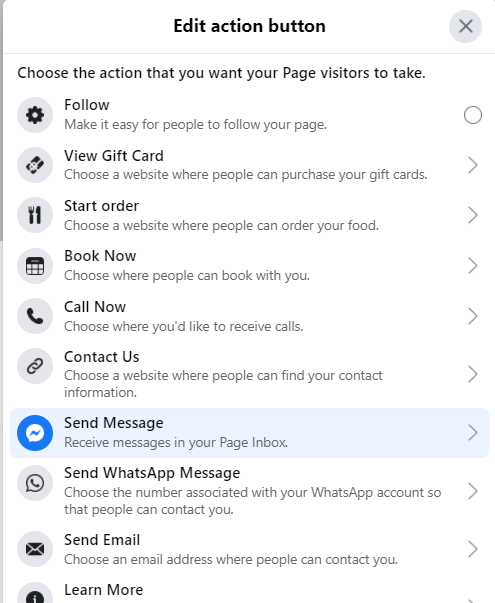 2. Fill your Facebook business page profile in detail:
This is a straightforward procedure. Businesses, But on the other hand, businesses could ignore this opportunity. A fully completed profile sends the message to your audience that you're interested in what they're saying. There are numerous sections where you can add more details about your business. Here are a few examples:
· Description/About
· Location
· Contact details (phone number and email)
· Website address
· Other social media like Instagram, Twitter, YouTube, etc
· Hours of operation
Social media is a place where people learn more about who you are as a business and gain trust. Maintaining consistency across all of your social media channels, as well as keeping your information accurate and up to date, is essential.
3. Engage your audience with Messenger:
You gain an advantage by making it simple for your visitors and customers to interact with you. Messenger is a perfect way to improve your Page's user experience and show off how well your company offers excellent service. Today, speed is crucial, so using Messenger to set up automatic messages will help a lot. There are a few things you can do:
When someone starts a conversation with your Page, set up a welcome greeting.
Make a list of commonly used responses and save them.
During your out-of-office hours, Turn away messages.
4. Encourage your customers to leave reviews
Positive reviews on your Facebook page instills confidence in your brand and establishes your reputation in the marketplace. Customers who can easily see your 5 star ratings are more likely to trust your company than those who don't share customer reviews.
SEO Optimization for Facebook
The use of keywords in a Facebook page name is one of the most simple SEO rules is to use keywords in your text, which means they should also appear in your page name.
You'll get a significant SEO boost by claiming your "vanity" URL and customizing it to fit your company's name.
Keywords are essential elements of your Facebook page SEO optimization, and strategy is key that sprinkles your page about section, headline, description section, and photo caption with keywords.
backlink to your Facebook page, you can use the link within your blog posts, so that your page will be continuously promoted every time.
Create and share the right content at right time.
With Facebook being the most widely used social media platform, it's safe to assume that your future customers are visiting your Page. Making sure your business Page is optimized is something you can't afford to overlook because it's a perfect way for your company to make a lasting first impression. Go over this list with your Page and make any necessary adjustments.